About Us
Sub-links for this page
My name is Penny Alder. I was born and raised in Sydney. I am the eldest of 5 children, although sadly I've now lost both my parents and 3 out of my 4 brothers since 2013. Dogs have been in my life for as long as I can remember. We had a variety of dogs and other pets whilst growing up. First we had some Dachshunds, beautiful soft, velvety coats. Then a beautiful white Samoyed called "Princess" when I was around 10. She had 10 very beautiful, white fluffy babies. I think this is when my passion for dogs developed. Princess and I had a very strong bond and in those days (yes, the good old days!) no one had fences or walked with dogs on leashes. Princess was quite obedient as I had done some basic training with her, even though I was very young.

Photo at the 2012 National in NSW. From left: Mum (deceased in 2022), cousin Diane, Penny & brother Brian (sadly deceased in 2015)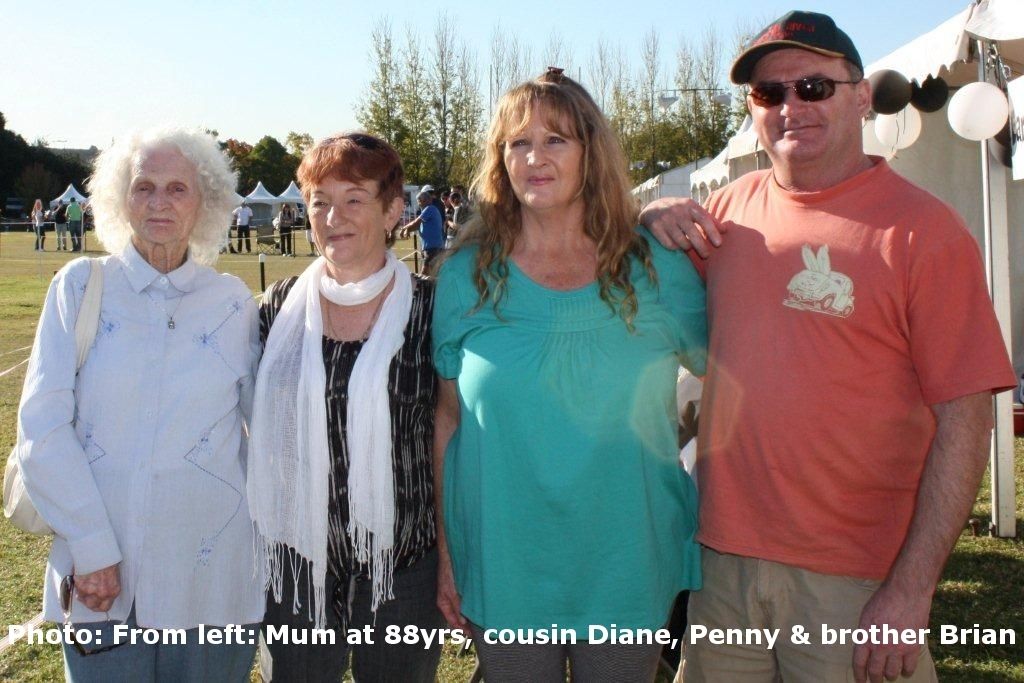 We also had a
Cattle Dog called Bluey. His brother lived next door. One day Bluey's brother decided to mate Princess. I can't recall what happened, if she got pregnant, but Dad sent Princess back to the breeder as we had no fences and they were more than happy to have her back. I was only 10 but heartbroken at losing my mate.
We then got a Corgi cross called Pippy when I was around 12. He used to trot along side me when I was riding my horse. We used to go for miles. We had lots of animals growing up as we had a big back yard. A nanny goat and her baby, a lamb called "Lamb Chops" (NO, we didn't eat him!) also ducks, chooks, guinea pigs, rabbits, and various birds. My Dad also raced Pigeons in the early days. That was exciting watching them all arrive home after racing their way back home from miles away. My Dad sometimes had to sew one up after a Hawk had attacked it. I also had 3 horses at different times when I was 10 to 16 years old. They all won ribbons at shows. I think that's how I first became so competitive!
At 16 years of age I purchased my first German Shepherd bitch for $80. "Rahni" was 9 months old & not the most perfect specimen of the breed as the import ban was still in place and breeders could only use Australian born males to mate their bitches to. "The Ban", fortunately was lifted in the early 1970's, although not in time for "Rahni" to be mated to an imported male. She whelped a litter of 10 pups. Talk about being thrown in the deep end!!
I was 18 years old with 10 pups to care for. I kept two females from this litter, Melony & Rima. Mum & I handled them in their first show in Baby Bitch in a large class at an All Breeds show, we were placed 2nd & 3rd (Of course I was 2nd & beat Mum!) From that moment I was hooked. The rest as they say is history. I bred 10 litters under the prefix "Yacahna"from 1972 until 1977. In January 1977 I went to WA for a two week holiday & I am still here 43 years later! I changed my prefix to Alderhaus in early 1978. W.A. had a sterilisation ban on for a very long time which was finally lifted Xmas Eve in December 1976. I have bred approximately 160 litters of German Shepherds under the "Alderhaus" prefix. Ialso previously bred arouns 25 litters each of Rottweilers & Golden Retrievers. I owned the top winning Rotty in WA for 3 years running in the very late 1980's into 1990. He was a Show Champion 12 times over!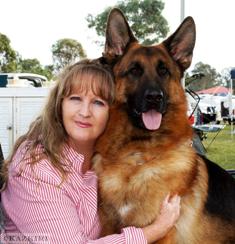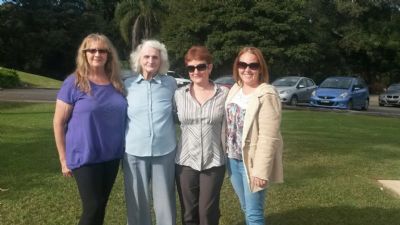 Above: Penny & Fakir 2011 Penny left, Mum now 97, cousin Diane & her daughter Kristal
I have bred over 40 Breed Surveyed animals to date, 7 Australian Champions, 1 Singapore Champion, several Excellent Merits, countless Excellents & a few obedience & agility titled dogs. Many animals either bred or owned by me have been "on the pegs" at Nationals or Main Breed Exhibitions over the years. One of my proudest moments was when my beautiful Champion *Alderhaus Yonni (DOB 20.11.1984) won the Gold Medal at the 1988 National. She had won the Silver medal in 1987 - I KNEW we could win Gold & we did just that the following year.
Yonni had a very envious show career gaining:
Top Show Dog of the Year (GSDA of WA Point Score) 4 years running 1986 - 1989

Winner of over 700 Challenge points.
Yonni & her dam, Alderhaus Lara are behind some of our current bitches.
I have been showing at Nationals around Australia since the 1970's, and have been going on a regular basis since. We also show our pups and dogs at approximately 8 or 9 German Shepherd Specialty shows a year in Perth. Our dogs are consistently placed in the top 3 in their respective classes under Aust. and overseas judges.
I am very proud to have bred 7 straight generations of Alderhaus females, which took around 32 years. Not many breeders in Australia have bred 7 or more generations.
I have been involved with this fantastic breed since 1970, and the last 30 years with my wonderful, very understanding, tolerant partner Rob.
Contact Details
Penny Alder
Forrestdale, PERTH WA Australia
Ph: (08) 9397 0535
Email: [email protected]

Quality German Shepherd Dog Breeders since 1972