Vegas vom Dongmiran Imp Netherlands
Sub-links for this page
Proudly owned in partnership with John & Lee Martens Aimsway Kennels Sydney.
We imported Vegas from Holland in April 2010.
Vegas now resides in New Zealand. Frozen semen available in Australia.
Vegas vom Dongmiran (Imp NDL) SchH1
Kkl1 a Normal ED Normal DOB 1 April 2008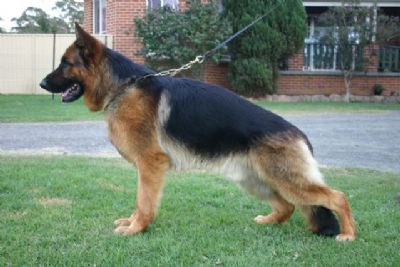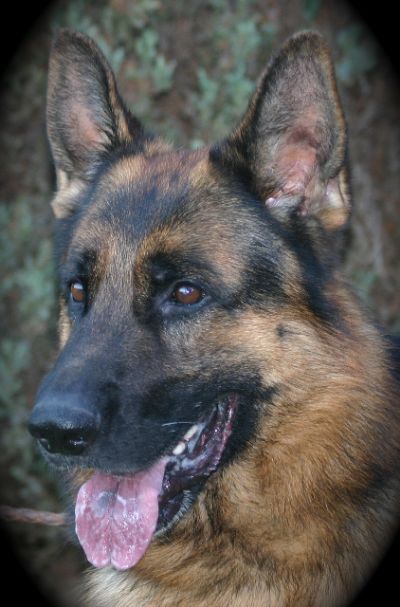 Vegas
Vegas is a large, strong, substantial, typical & expressave dog of good body proportions. Strong head. Pronounced withers, firm back, normal length & lay of croup. Very good angulations. Balanced chest proportions. Temperament & character firm. TSB pronounced. A very harmoniously constructed dog that is suitable for the consolidating of medium size & correct forequarter angulation. He is suitable for the improvement of size, pigment & eye colour.
Many, many of Vegas' progeny have successfully gone through the Hip & Elbow schemes and at one point the average "mean" score was 4.85, which is one of Australia's lowest of all current stud dogs. The majority of Vegas' progeny have received the Normal grading for elbows.

We are extremely proud of Vegas as his progeny has been doing exceptionally well in most states since first appearing on the show scene in late 2010, with countless class wins in Aust and New Zealand including major wins. Vegas' progeny has won NINE classes in 3 consecutive Nationals, 2011 - 2013!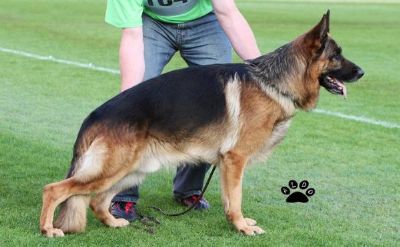 Vegas' sire Yerom vom Haus Salihin World Vice Sieger 2009 & VA 3 - 2010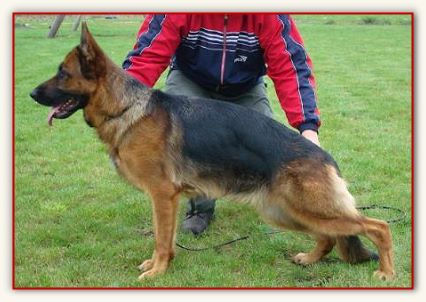 Vegas' dam Pischa von der Zenteiche VA 3 Dutch Sieger Show 2009
S: Yerom vom Haus Salihin

2nd best male in the world 2009

S: Mark vom Schwalmbergtal

S: Henry von der Dunieschenke

D: Ira vom Schwalmbergtal

D: Heksa von der Werther-Mühle

S: Baru von Haus Yü

D: Dolli von der Werther - Mühle

D: Pischa von der Zenteiche

S: Hannibal vom Stieglerhof

S: Hill vom Farbenspiel

D: Xena vom Stieglerhof

D: Donna von der Zenteiche

S: Fritz vom Farbenspiel

D: Pia von der Zenteiche
VEGAS IS STANDING AT STUD IN NEW ZEALAND
CHILLED OR FROZEN SEMEN CAN BE AIR FREIGHTED TO ANY CAPITAL CITY IN AUSTRALIA & NEW ZEALAND
*NO UPFRONT SERVICE FEE.
FULL STUD FEE PAYABLE WITHIN FOUR WEEKS OF BITCH WHELPING

Please phone Lee or John Martens AIMSWAY KENNELS (02) 477 48117
Contact Details
Penny Alder
Forrestdale, PERTH WA Australia
Ph: (08) 9397 0535
Email: [email protected]

Quality German Shepherd Dog Breeders since 1972