Fakir vom Heinrichplatz Imp Germany
Sub-links for this page
Proudly imported from Germany in March 2011 in partnership with John & Lee Martens Aimsway Kennels Sydney.
Now lives the life of luxury with Valeta and Trevor Pethrick in Perth.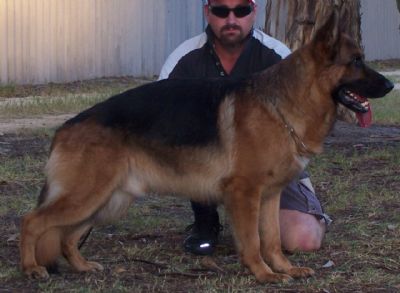 V1 Fakir vom Heinrichplatz SchH3 (Imp Ger)
Kkl 1 a Normal ED Normal HD ZW 77
64 cms DOB 13.11.2007
At the 2011 National Show in Sydney, Fakir was called out in first place and was in line for the Gold medal under the German judge. However our dreams were shattered when he appeared unwell in the class during judging, and very sadly we had to withdraw him from further competition. It was getting to be a hot day and Fakir had come from snow in Germany 6 weeks earlier. The judge asked Fakir's handler to leave him in the class as he was his winner, but Fakir's welfare was our priority. Fakir is a wonderful dog with an amazing nature and he now lives with our friends in Wanneroo.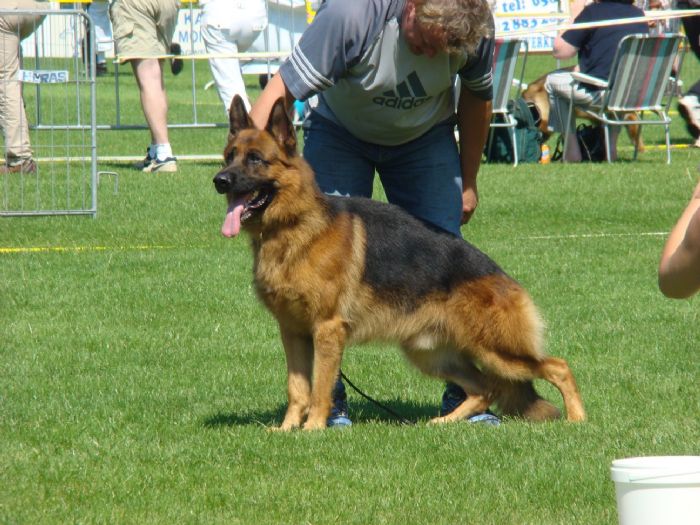 Photo: Fakir's Sire VA5 Holland, Djenges Kahn vom Sante's Home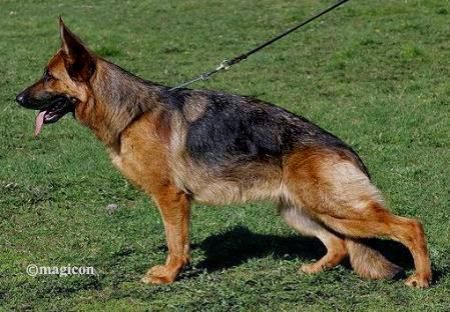 Photo: Fakir's Dam Toga vom Heinrichplatz, V rated
Linebreeding - 5 generations
5 - 5 V1 Eros von der Luisenstraße

5 - 5 VA1 (I) Hobby vom Gletschertopf
S:Djenges Kahn vom Sante's Home

S: Maffay von Arminius

S: Esko vom Dänischen Hof

D: Finta vom Michelstädter Rathaus

D: Bibi von Arline

S: Yasko vom Farbenspiel

D: Angie vom Dusrani

D:Toga vom Heinrichplatz

S: Andrjuscha van Noort

S: Hill vom Farbenspiel

D: Endrefalva Chicoletti

D: Yoga vom Ochsentor

S: Untox von Ducati

D: Kenya vom Ochsentor

FROZEN SEMEN CAN BE AIR FREIGHTED TO ANY CAPITAL CITY IN AUSTRALIA & NEW ZEALAND
NO UPFRONT SERVICE FEE.
FULL STUD FEE ($1,500) PAYABLE WITHIN 8 WEEKS OF BITCH WHELPING

Please phone Lee or John Martens AIMSWAY KENNELS (02) 477 48117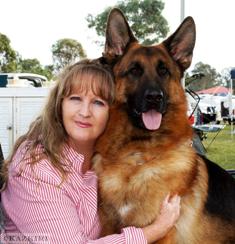 Fakir & Penny April 2011, just 6 weeks after arriving from Germany

Photo: Fakir in Quarantine March 2011
Contact Details
Penny Alder
Forrestdale, PERTH WA Australia
Ph: (08) 9397 0535
Email: [email protected]

Quality German Shepherd Dog Breeders since 1972