Mika vom Overledingerland Imp Germany
Sub-links for this page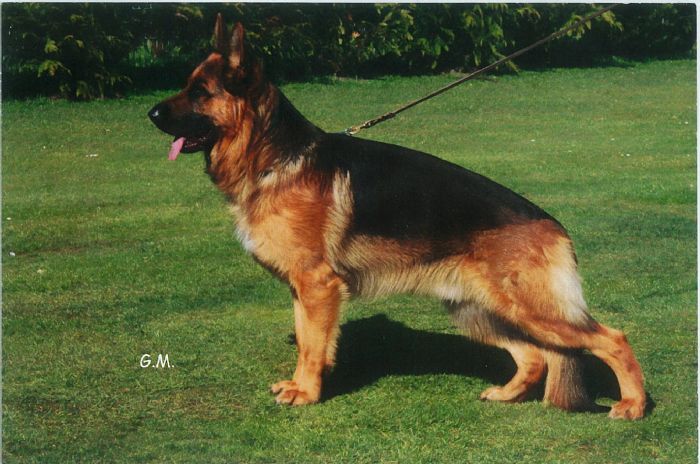 Mika vom Overledingerland
Imported by us from Germany in July 2008
Excellent Merit & Reserve State Sieger 2009
AD BH KKl1'a'Normal ED Normal DNA Proven HD ZW 82 DOB 30 July 2006 64.5cms
Mika is loved and owned by Michelle & Vic Green.
Mika was the only Quenn vom Löher Weg son at stud in Australia. Quenn was World Vice Sieger 2007. Quenn was the grand sire of all 4 younger class winners at the 2010 German Sieger Show. An outstanding feat & maybe the first time one Sire has done this.
Mika sired Class Winners at the last 4 Nationals!
2009 1st Minor Puppy Bitch/Reserve Challenge

2010 1st Junior Dog

.

2011 1st Junior Dog, 2nd & 8th Intermediate Dog, 5th Intermediate Bitch (out of 8 progeny exhibited

!)

2012 1st Open Dog/Gold Medal winner, the stunning Kazkiri Xavi ("Sparta")

2013 2nd Open LSC Dog/Silver Medal winner, the very beautiful Kazkiri Ximon ("Zen")
Mika has excellent Hip statistics & is amongst the best producers of low hip scores in Australia. His "mean" hip score is 4.74.
Mika's Ebow statistics are outstanding - 84% Normal (0-0) & 16% Grade 1 (NO Grade 2 or 3)
Mika is a strikingly typey & expressive, well pigmented , above medium size, strong, dry, firm dog with very good structural proportions & very good sexual definition. High long withers, beautiful lines, good length & lay of croup. Very good angulation of fore & hindquarter, mature chest proportions. Straight in front. Correct sequence of steps. Very free flowing movement with powerful drive and free reach. Firm temperament, TSB pronounced, releases on command.
Suitable for improvement of type, expression, sexual definition, pigmentation and structural proportions. This dog comes from a well producing sire & dam line with a good number of above medium sized animals and excellent hip results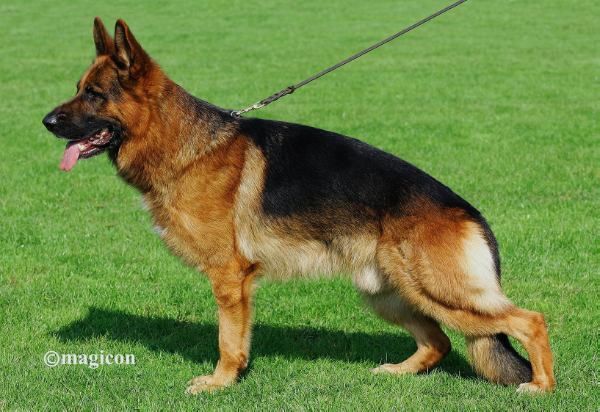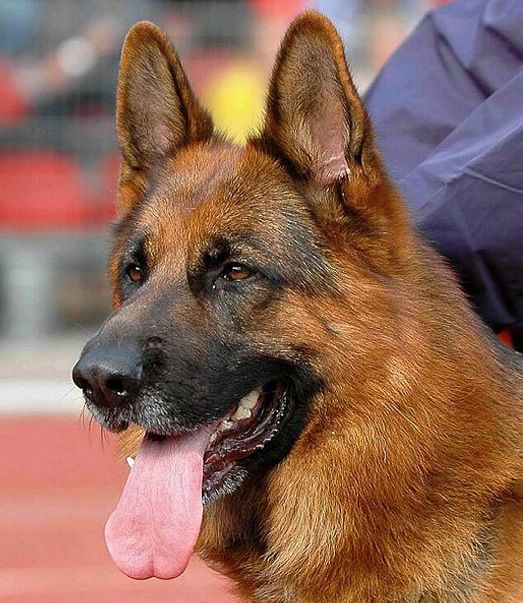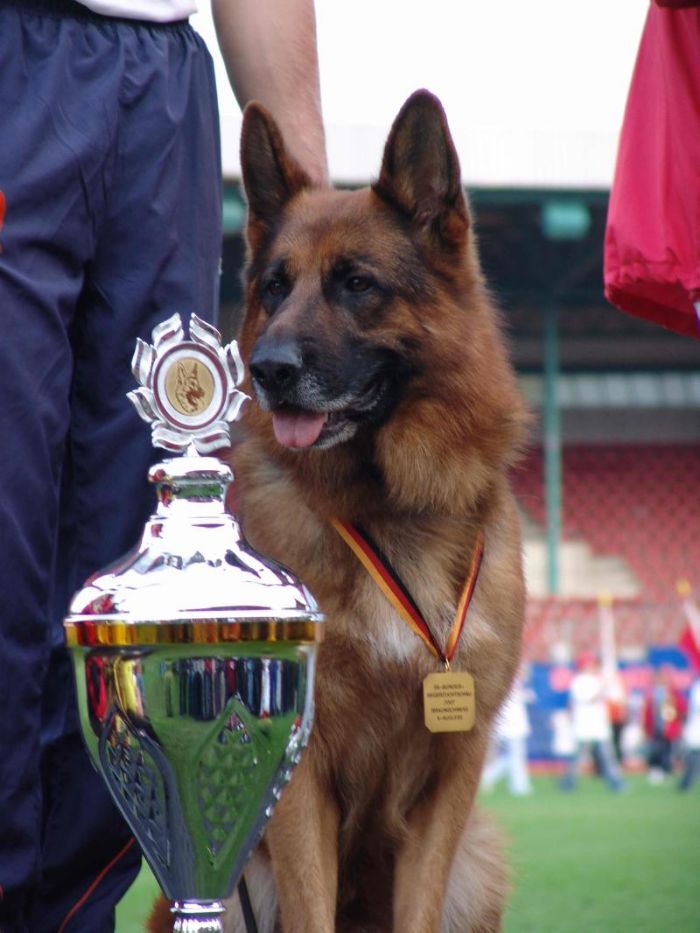 Photo above: Mika's sire Quenn vom Löher Weg - 2nd best male in the world in 2009. Quenn lived until 13 yrs, he has gone down in history as "Quenn, The Legend".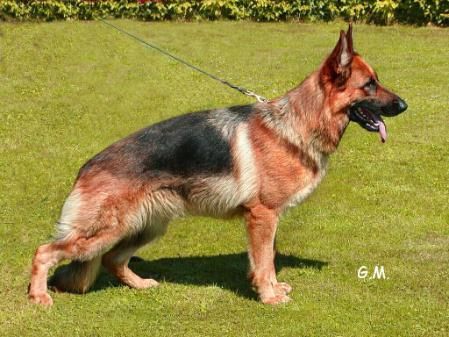 Photo above: Mika's Dam Kelli vom Overledingerland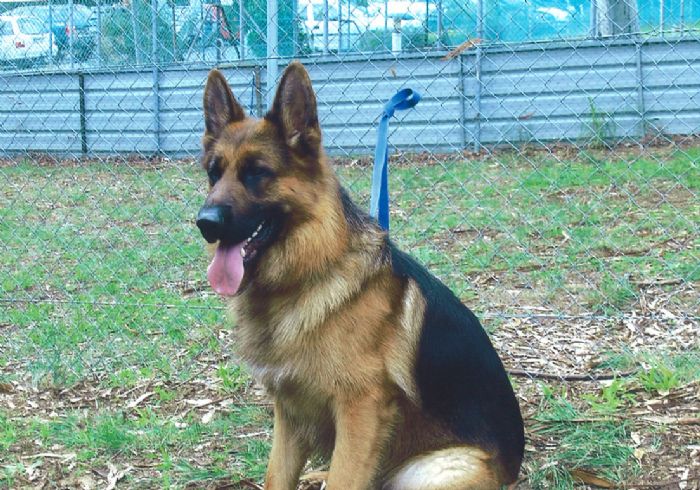 Photo: Mika at 23 months in quarantine - July 2008. Photos below, Mika at various ages.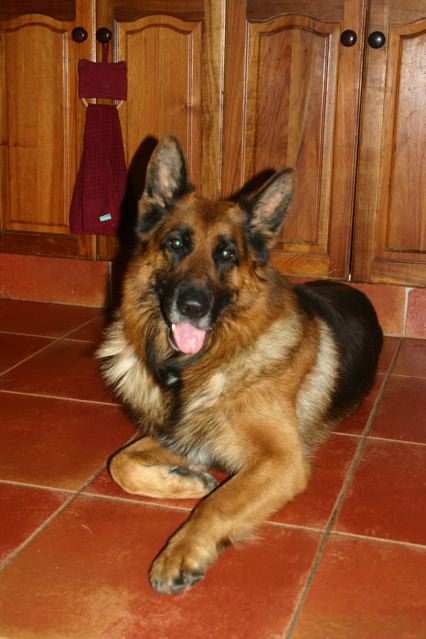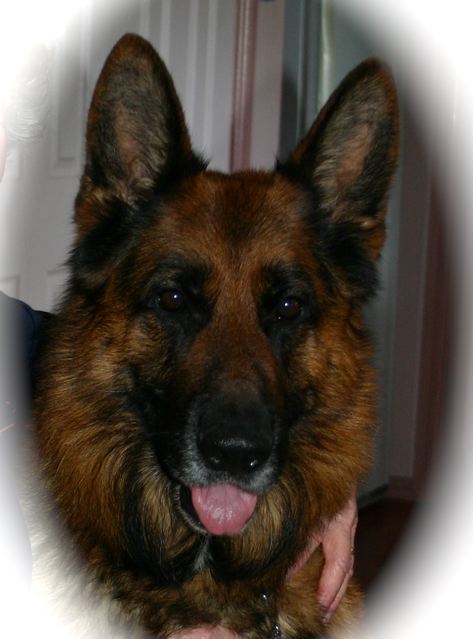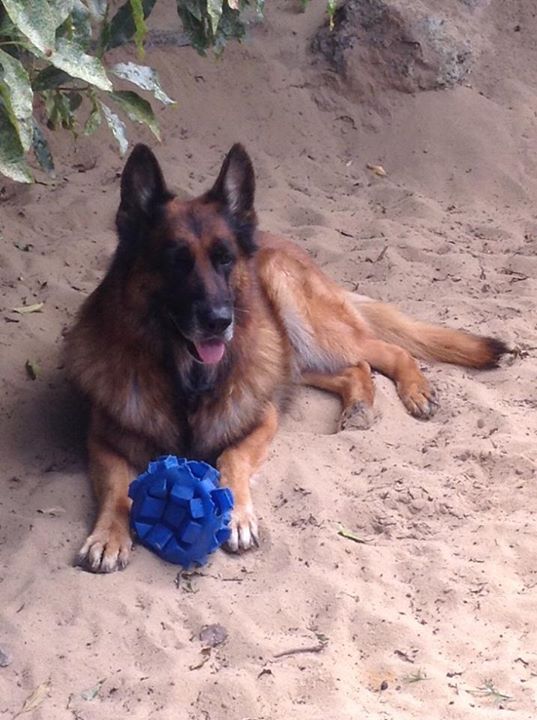 Linebreeding - 5 generations
4 - 4 VA1 Ulk von Arlett

5, 5 - 5 VA1 Zamb von der Wienerau

5 - 5 VA5 Yago vom Wildsteiger Land
S: *Quenn vom Löher Weg

S:

*

Uran vom Moorbec

k

S

: *Ursus vom Batu

D: *Vina vom Moorbeck

D:

*E

lsa vom Kuckucksland

S

: *Emo von der Wienerau

D: *Kerrie Feuemelder

*Kelli vom Overledingerland

S: *Nasko vom Nordteich

S: *Rikkor vom Bad-Boll

D: *Katie vom Nordteich

D: *Anka von Arnemann

S

: *Athos vom Hambachtal

D:

*Hasel von der Dreieckskoppel
Contact Details
Penny Alder
Forrestdale, PERTH WA Australia
Ph: (08) 9397 0535
Email: [email protected]

Quality German Shepherd Dog Breeders since 1972