Triumphs Kazan
Champion *Triumphs Kazan 10.10.97-25.7.06
Imported by us from Sweden as a 2 year old with a very good start to what was to be a spectacular show career. What a gorgeous dog and an absolute joy to own. He won so much & many people could only ever dream of having such a dog with his loyalty, enthusiasm & envious show career.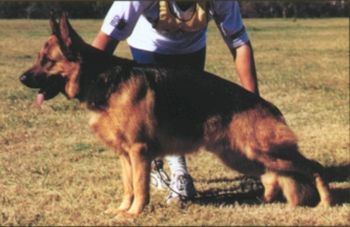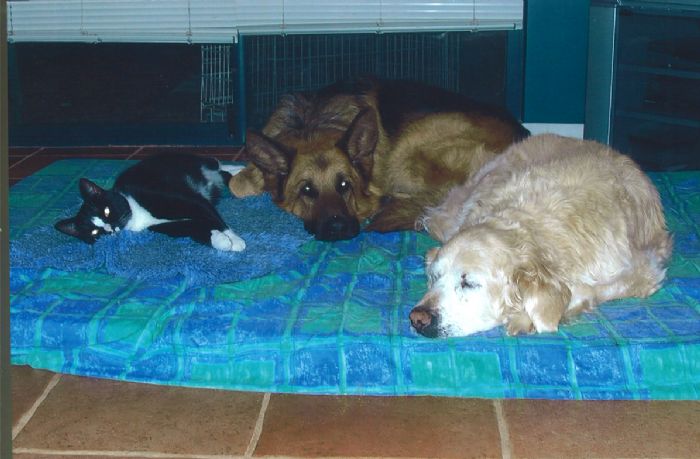 He was Excellent Select 3 at the Main Breed Exhibition 2001

Top Show Dog (GSDA of WA Point Score) 3 years running 2000 - 2002

multi Best in Show & Runner Up in Show awards

he also won 2 National Silver Medals, 2001 & 2003
Kazan sired Champion *Eisenland Zilli the 2002 National Gold Medal winning bitch & is the grandsire of Champion *Bruvic Kontiki, the 2008 National Bronze Medal winning bitch.
Kazan is behind all of our current Alderhaus bred GSDs. Kazan's first great great grand children were born in October 2010, sired by our magnificent Mika vom Overledingerland. Dam of the litter is our beautiful Alderhaus Kazans Embrace - Evie. We kept two females from this litter, Penny's Jettie & Penny's Ferelda, who are 7 generations of Alderhaus breeding. We are excitedly looking forward to mating one of these girls in 2012 which will give us 8 generations of Alderhaus.
Kazan lives on and has truly left his mark & has made us very proud.
S: Triumphs Gucci

S: Quartz dei Templari

S: Amigo vom Belgier

D: Freda del Pellegrino

D: Triumphs Pilar

S: Triumphs Flipper

D: Sissy vom Wittelsbacher Schloß

D: Triumphs Amy

S: Matty von der Wienerau

S: Zamb von der Wienerau

D: Zandra von der Wienerau

D: Vina von den Paderquellen

S: Enzo von der Burg Aliso

D: Alin von der Dunieschenke
Large, strong, masculine, correctly proportioned dog of excellent type. Very good head and expression with very good ear set. Very good depth of both upper and lower jaw. Correct eye colour. Stands with high wither, firm straight back, very good length and lay of croup. Very good angulations of the fore and hindquarter with good breadth of thigh. Very good fore and under chest development. Stands correct in front with clean straight bones. Steps correct going, elbows still to firm. Powerful far reaching gait with correct sequence of steps maintaining a praiseworthy top line. Firm in temperament and gun sure.
Welcome to my Photo Album.
Click each link to view larger photo.
Contact Details
Penny Alder
Forrestdale, PERTH WA Australia
Ph: (08) 9397 0535
Email: [email protected]

Quality German Shepherd Dog Breeders since 1972