Zamb vom Schwarzaugen
Sub-links for this page
We proudly announce ZAMB vom SCHWARZAUGEN "a" Normal ED Normal H Neg DNA Proven
will be standing at stud
in SYDNEY at AIMSWAY KENNELS with John & Lee Martens.
Zamb has 6 straight generations of German VA males behind him!



Photo: Zamb vom Schwarzaugen
5th Open Dog 2012 National
Since arriving from Germany, Zamb has been placed at the following shows:
29/10/11 Exc 2 Res. Challenge, RUNNER UP BEST IN SHOW - Herr Joachim Stiegler SV Germany

30/10/11 Exc 2 Res. Challenge - John Fenner

10/12/11 Exc 1 Challenge, BEST IN SHOW - Faye Stokes

10/03/12 Exc 1 Challenge, RUNNER UP BEST IN SHOW - Herr Eric Boesl SV Germany

20/05/12 Exc 5 National 2012 - Herr Albrecht Woerner SV Germany

14/07/12 Exc 2 Res. Challenge - Mike Bradley (NZ)

15/07/12 Exc.4 - Joe Summerhill

(UK)
Zamb is from the magnificent World Sieger 2006 ZAMP vom THERMODOS.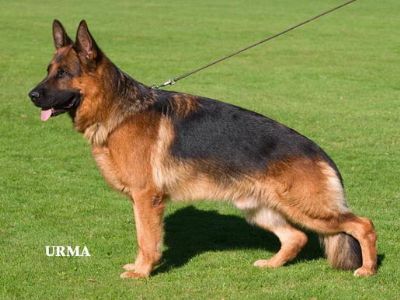 Photo: Zamp vom Thermodos a Normal ED Normal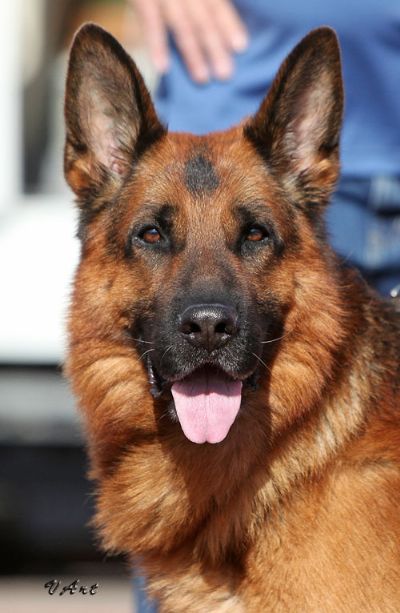 Photo: Zamp vom Thermodos a Normal ED Normal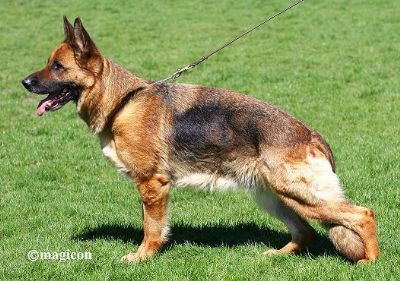 Photo: Zamb's dam - Zamba van Noort V1
Zamb vom Schwarzaugen's German Breed Survey:
GENERAL DESCRIPTION
A large, medium strong, substantial, dry and firm dog with very good expression. Strong head, high withers, good length and lay of the croup. Correct angulations. Balanced chest proportions. Stands correct in front. Stepping correct both front and rear. Shows a flowing gait with good ground cover. Temperament and character firm. TSB pronounced. Releases.
PARTICULAR VIRTUES AND FAULTS
An expressive dog of correct proportions and construction. 8.7.2011 Mr B. O'Rourke: A large, strong, harmoniously constructed dog that fulfills the virtues of his earlier breed survey. Particularly pleasing are his proportions and overall dryness. Normal care in the lines to the depth of the hindquarter.
ADVICE FOR SELECTION OF BREEDING PARTNER
Suitable for improvement of harmony of construction. 8.7.2011 Mr B. O'Rourke: This dog can be used for the improvement of firmness, proportions and angulations. His line breeding in all parts can be used with great advantage.
Surveyor: Her B. Weber/Mr B. O'Rourke
Zamb had 3 progeny shown at the 2012 National and all were placed, one 3rd place & two 6th places, all graded Very Promising.
Two of Zamb's progeny, from 2 different bitches.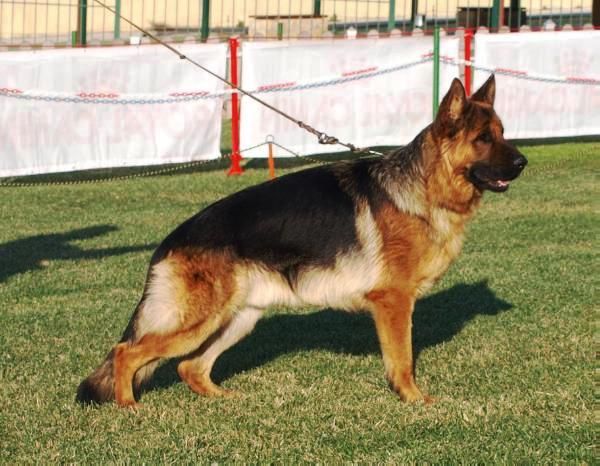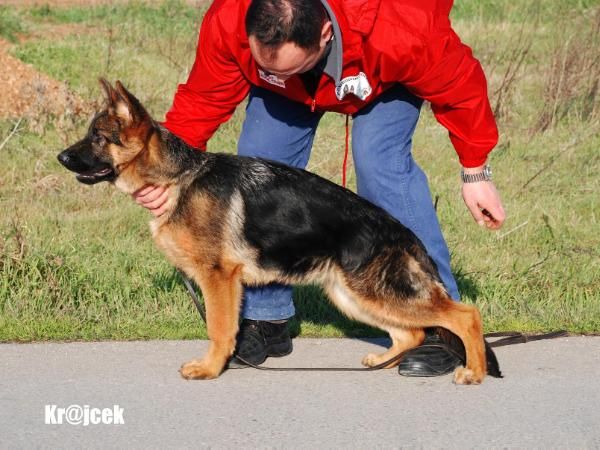 PORKAN vom SHEPHERDLAND BIJOU vom SHEPHERDLAND
Zamb's stud fee is $1,000. Service fee of $250 payable at time of mating. Balance payable when bitch whelps. Transport for interstate bitches can be arranged. Bitches can be accommodated.
This quality, extremely well bred dog is now more accessible to Sydney and Qld bitches.
We would like to thank John Oar for entrusting us with Zamb.
Enquiries: Please contact John or Lee Martens (02) 9606 5802 or email [email protected]
Contact Details
Penny Alder
Forrestdale, PERTH WA Australia
Ph: (08) 9397 0535
Email: [email protected]

Quality German Shepherd Dog Breeders since 1972